Last Updated on November 22, 2021 by cmoarz
If you've got an aquarist in your life, you might know how hard it is to find gift ideas for your resident fish tank lover.
Aquarium lovers can have strange tastes, And the perfect gift could be a practical one or a fun and silly one. Whatever you choose to give, I've tried to make a selection to make it much easier to choose proper gifts for aquarium lovers.

Practical Gifts
Practical gifts are gifts that an aquarium hobbyist would use or need. These gift ideas can range from automatic fish feeders, water test kits, frozen food, led lighting, remote control timers, entire fish tanks, and so many different types of tools, gadgets, and equipment.
As an aquarium hobbyist myself, I only tried to include things on the list that I would genuinely like to receive as a gift. I hope my personal experience helps the rest of you out.
Here are a few practical gifts for aquarium lovers:
Practical Gift Ideas (Under $10-$50)
Under $10 to $50 is relatively cheap when it comes to gift-buying, but that's still enough for some nice presents and stocking stuffers like these! Great for office gifts and when you are on a tight budget.

Some new Stainless Steel Tools
Last update on 2021-11-26 / Affiliate links / Images from Amazon Product Advertising API
Every hobby has its specific toolsets and equipment it uses to function. In the case of aquarists, some of those important tools are aquarium tweezers, scissors, etc.
Stainless steel is the best material for these as they will be in contact with water, a lot. They also don't leech any metals into the water column.
They're the tool of choice for an aquascape artist to do most of their work with, and they do make a great practical gift that will be used all the time!
This VavoPaw kit has a few things in it. Stainless steel scraper, curved scissors, straight scissors, curved tweezers, and straight tweezers. This particular kit is around 10 inches long.
For aquarium lovers with bigger tanks, consider aquarium tweezers extra-long 32, to 18 inch works too!
Give the good gift of dragon stone
Lifegard Aquatics Aquascaping Dragon Ohko Rock Kit – Decorative Aquarium Rocks, Fish Tanks – 25 Gallon Kits
DECORATIVE AQUASCAPING ROCK KITS: Decorate your aquariums, fish tanks, ponds and water...
HIGH-QUALITY AQUARIUM LANDSCAPE ROCKS, STONES: Enhance the look of your aquarium landscape...
ATTRACTIVE AQUARIUM STONES: Add beauty to your aquariums with aquascaping kits and stones...
HIGH-END ROCKS FOR AQUARIUMS, FISH TANKS: Lifegard is pleased to offer a variety of styles...
LIFEGARD Brand is YOUR GO-TO RESOURCE FOR AQUARIUM, POND & AQUACULTURE PRODUCTS: Lifegard...
Last update on 2021-11-26 / Affiliate links / Images from Amazon Product Advertising API
The problem with dragon stone is we never have enough of it. It's used in most of my planted tanks, but I could always do with more!
Having a bit of extra dragon stone on hand can be a lifesaver when trying new things in my tank, And I love nothing more than receiving it.
Dragon stone is pretty neutral for water chemistry, so it won't interfere in anything your friend already has, And I'm sure they are already to receive it and have a place picked out for it before they even knew they were getting some!
It works great in saltwater, freshwater, reef tanks, and all other sorts of aquariums, Your hobbyist friend will love it!

Practical Gift Ideas (Under $50-$100)
C02 Generator and reactor kit
Last update on 2021-11-26 / Affiliate links / Images from Amazon Product Advertising API
C02 is a great idea and a great gift. Your aquarist will know exactly what he needs to do with one if he receives it as a gift.
C02 can make a person's aquarium turn a new shade of green by giving the plants a huge burst of growth. It really is a valuable practical asset in an aquarium hobbyist's gear bag, and because of that, it makes one of the best gifts under $100.
Make him or her happy while also saving money!
Nutrafin Master Test Kit
Nutrafin Master Test Kit, Contains 10 Test Parameters
Master Test Kit; Ensures your fish are living a proper environment
Includes all Hagen test kits including ammonia, pH, calcium, phosphate, iron, nitrite,...
Easy-to-read color charts are included
For fresh and saltwater aquariums; Full instructions for each test
Packed in a solid, durable case that holds everything; Acts as an excellent working area
Last update on 2021-11-26 / Affiliate links / Images from Amazon Product Advertising API
We love to test our water, A lot! This means we need those test kits! Test strips only work so well, they are too imprecise and inaccurate. Accurate data can be a life saver.
Without a proper aquarium kit that can give us numbers to compare against each other, We don't know what we're managing our tanks for.
A Nutrafin master water test kit is a great gift idea under $100 if you're looking for something practical for your aquarist friend.

Practical Gift Ideas (Over $100)
Rimless Nano Tank
Sale
Last update on 2021-11-26 / Affiliate links / Images from Amazon Product Advertising API
If your friend is deep into aquascape art, and you don't want to give them a boring gift, Check out one of these rimless nano tanks.
aquatic artists can do amazing things with these little tanks and it's always nice to have more options to work with.
I can tell you we can never have too many tanks. Most of us have multiple tank syndrome!
Backup Power Supply
Sale
CyberPower BRG1500AVRLCD Intelligent LCD UPS System, 1500VA/900W, 12 Outlets, AVR, Mini-Tower, 5-Year Warranty
1500VA/900W Intelligent LCD Battery Backup Uninterruptible Power Supply (UPS) System
12 NEMA 5-15R OUTLETS: Six battery backup & surge protected outlets, six surge protected...
MULTIFUNCTION LCD PANEL: Displays immediate, detailed information on battery and power...
AUTOMATIC VOLTAGE REGULATION (AVR): Corrects minor power fluctuations without switching to...
5-YEAR WARRANTY INCLUDING THE BATTERY; $500,000 Connected Equipment Guarantee and FREE...
Last update on 2021-11-26 / Affiliate links / Images from Amazon Product Advertising API
It's incredibly important that our pumps and filters and heaters are always running. If there is ever a power outage, it could spell disaster for our fish and live plants.
By having an extra power supply, we get a secure backup we can depend on whenever we need it.
That's why I HAVE to add this one to the list. It's just a little too important to be left off.
There are a lot of them available on Amazon, and most have good reviews! I'm sure your aquarist will love it!
Check out the ones I personally recommend

Silly, Fun Gift Ideas
Want to get something that isn't directly related to the aquarium itself? These can be perfect gifts for aquarium lovers!
To give you a few ideas of presents; decorative posters, wall-mounted dancing and singing fish, aquarium-shaped pillows and blankets, hilarious memes on t-shirts, and all kinds of novelty items.
Here are a few fun and silly gifts for the aquarium lover:
Potty Fisher Toilet Fishing Game
Last update on 2021-11-26 / Affiliate links / Images from Amazon Product Advertising API
It's absolutely ridiculous and many aquarists are going to love it. It's just the gift that keeps on giving. Try putting one in your friend's Christmas stocking!
Hilarious T-Shirts
There's nothing more time-consuming than getting sucked into reading all the funny T-shirts. So I went ahead and picked out the ones that made me laugh for you! A T is a classic gift when you just don't know what the heck to give.
Last update on 2021-11-26 / Affiliate links / Images from Amazon Product Advertising API

Warnings and Things You Shouldn't Buy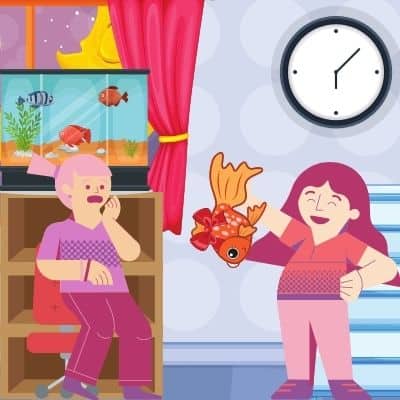 There are things you shouldn't get an aquarium hobbyist without asking first, Live plants, freshwater fish, saltwater fish, floating aquatic plants, or any sort of aquarium plants, or anything else that would force a balance change in their aquarium.
You want your gift to be fun or useful! So don't curse your hobbyist family member or friend with something that needs an entirely new setup to survive, Or something that might throw off the balance of their tanks.
With that said, they may wish to receive something like this and be completely ready for it. In that case, all you have to do is ask in advance.
About
Owner of AquariumGravel.com and also owner of actual Aquarium Gravel believe it or not! ;). Setting up beautiful aquarium sceneries and habitats since I was very young. Enjoy!