Last Updated on February 2, 2021 by cmoarz
Looking for the most amazing clean up crew you can find for your aquarium? Look no further! We've got an amazing list with all the stats you could possibly need when choosing your tank cleaning fish. So let's get started looking at some amazing fish that clean tanks!
What Are The Best Algae-Eating Fish Fish That Clean Tanks?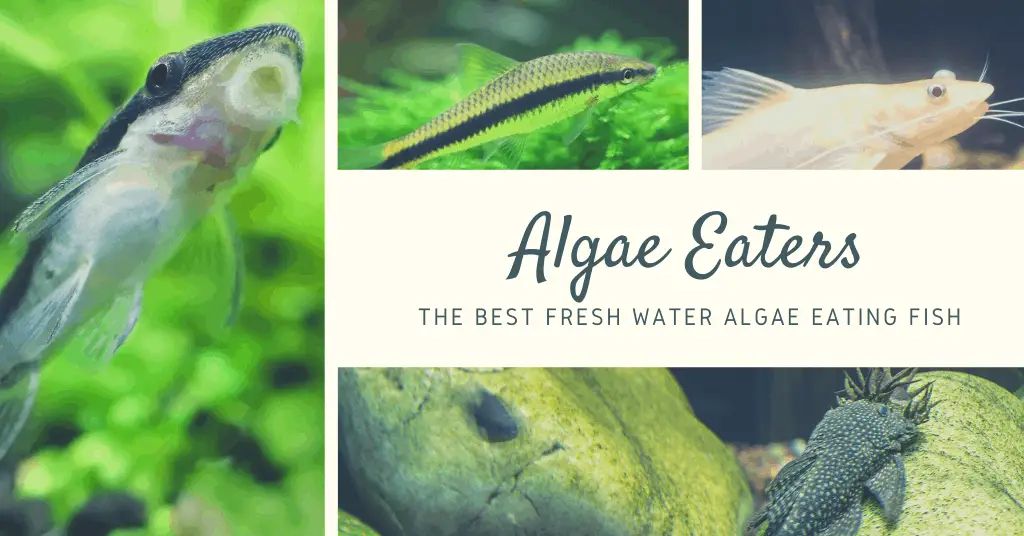 Algae eating fish are the most common types of cleanup crew people choose for their aquarium. Most of them are peaceful and do a great job at janitorial cleanup. With a few exceptions, most of these algae-eating fish are passive and able to live within a community tank with other types of animals.
With that said, Aggressiveness is a very important factor when choosing which algae-eating fish you would like in your aquarium. That's why we label each fish with a tag stating whether it's passive-friendly or aggressive. Consider it your first step to choosing the proper fish for your tank.
Let's get started.
Siamese Algae Eaters (Crossocheilus Siamensis)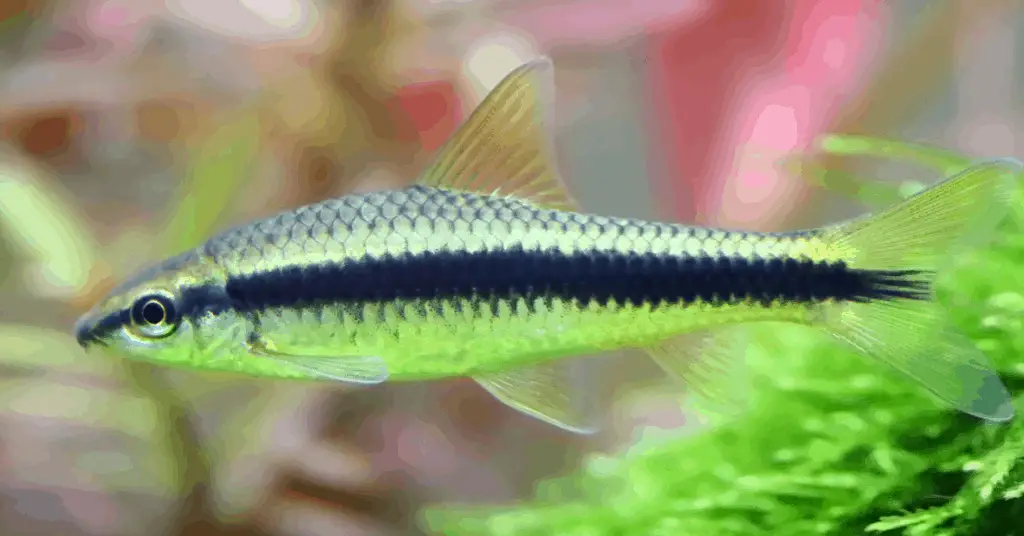 These are the MOST common algae-eating fish you will find in people's tanks. This is due to a variety of reasons. They are the timidest and peaceful types of algae eaters and they only grow to be about 6 inches (15 cm) which is a fairly small size. It makes it ideal for smaller tanks.
They require a pH of 6.5 to 8.0 so they can live in diverse aquarium habitats as long as they range from 75-79°F (24-26°C). Their diet consists of your basic omnivorous food sources and will eat dead fish, algae, diatoms, leftover fish foods, and sometimes fresh greens.
They are highly unlikely to damage live plants in an aquarium environment if they are fed appropriately. Because of this, it makes them ideal for planted tanks.
Their life span is about 10 years on average, so a fairly long-lived species of algae-eater.
These fish are highly adaptable to their environment but do prefer some sort of moving current in your tank. This can be achieved easily through a variety of aquarium attachments. They also prefer a slightly acidic water habitat.
Because of their timid nature, tank mates for SAE's are wide and diverse. They can cohabitate with just about any species, although on occasion you will find they eat smaller fish and shrimp, or might nip at other fishes' fins. This is common.
Chinese Algae Eater (Gyrinocheilus aymonieri)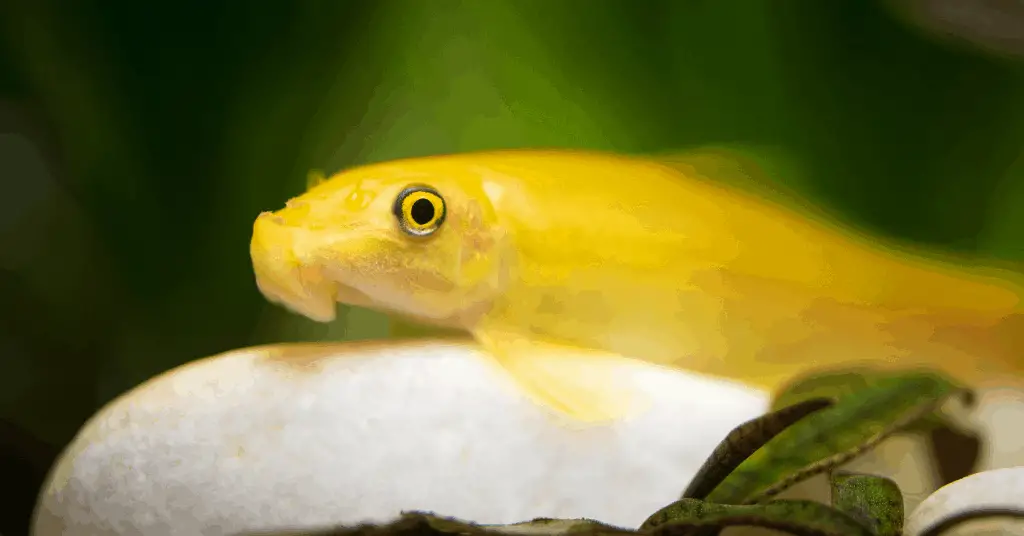 The Chinese Algae Eater is a bit rarer to see in people's aquariums. Although pretty, and come in a variety of eye glinting colors, there are many reasons why this algae eater isn't going to be for everyone. Depending on the types of creatures and plants you have in your tank will go a long way in deciding whether or not these guys are right for your new cleanup crew.
In regards to their janitorial ability, These guy's will eat just about anything algae wise. As an example, while many cleaners won't touch hair algae, These guys will much it down in a heartbeat.
The problem starts to arise as they start to become adults. For one thing, at an incredible 11 inches long, 28 cm, these guy's got fairly big. As they get older they also become a bit lazier when it comes to feeding and keeping thing's clean. But the biggest problem of all is their temperament.
Chinese Algae Eater has been known to be semi-aggressive fish in so much as they will attack other species, and in general, be big bullies. This trait only gets worse as they get larger and older, making them not a very good fish to have in a docile social tank.
Their favorite substrate tends to be a mix of sand, gravel, and large rocks. They also enjoy some greenery with substance. Because of the way they may anchor themselves, it's advisable to have many large hard surfaces for them to suck onto with their mouths. This is a natural thing they do in faster moving waters or waters with a current. It's always nice to have the option.
Requiring a pH between 6.0 and 8.0, and a low nitrate level, these fish tend to get along in most waters. They like temperatures ranging from 72°F – 80°F (22-27°C) which, coupled with its aggressive behavior, makes it good tank mates for several species of snail, dwarf shrimp, zebra danios, cherry barbs, tiger barbs, emperor tetras, etc.
Chinese Algae Eaters should be housed with other fast-moving fish that like to live near the surface of the tank. CAE's will tend to stay at the bottom of the tank and thus will be less likely to cause conflict with top tank species.
Since these are larger fish, they will need larger tanks to accommodate them. The minimum tank size for Chinese algae eaters is 30 gallons or 120 liters.
Otocinclus Catfish (Loricariidae)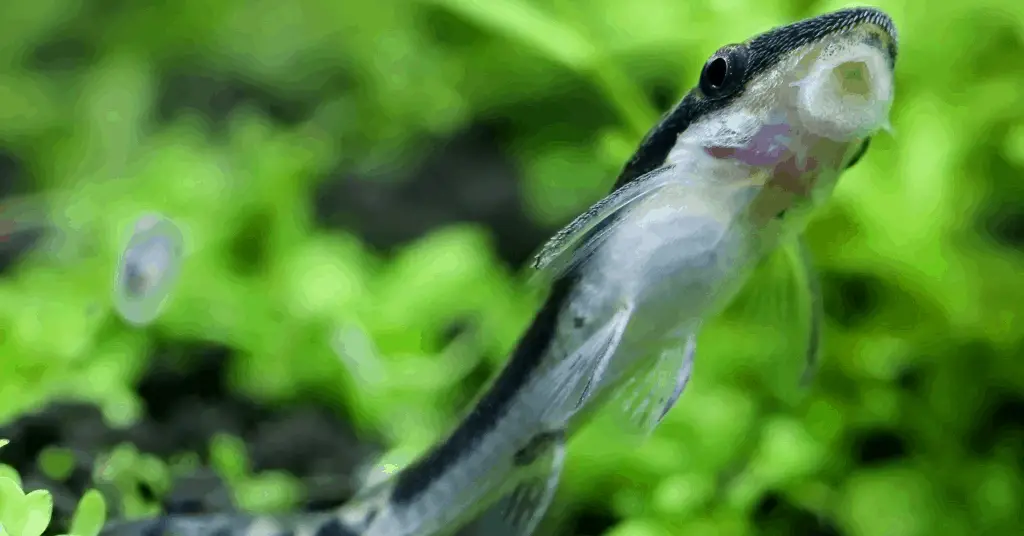 The 'Oto' fish is a group of fish that belong to the genus otocinclus. it consists of around 19 species. Native to South America, the oto thrives at its job as a janitor fish, and will easily eat up all your algae.
These are small fish at only around 2 inches long, so they require a smaller habitat. A minimum 10-gallon aquarium will keep this guy happy.
These oto's live entirely on a herbivore based diet, Only consisting of various types of algae and plant matter. They will also eat leftover fish food and fish flakes as well.
Although their main diet will consist of the algae in your tank, eventually that will run out. So you will need to supply nutrient foods to keep them alive and happy.
They love to eat algae wafers, and will also eat fresh human produce. These can include spinach, romaine lettuce, zucchini, peas, etc. Some vegetables can be bad, so research if something is good to give them before you do. Some may also require preparation via blanching.
Much like other bottom feeders, otos prefer slightly acidic water with a ph between 6.8 and 7.5 and a temperature between 72-79°F (22-26°C). Nitrite levels need to stay as close to 0 as possible for these fish to thrive.
Because these species of fish have a low temperament, They can cohabitate with other peaceful communities of fish. Unlike the CAE, the oto will simply avoid conflict and move away from any other fish.
Because they are so small, sometimes they can become prey to larger more aggressive fish. Their timidness can contribute to that. This needs to be kept in mind when choosing their tank mates, or if they are suitable for your current aquarium.
Some good tank mates for the oto are cherry barbs, angelfish, tetras, zebras, loaches, dwarfs, corydoras, SAE's, mollies, guppies, snails, and various other such species.
These fish are fairly social and should have at least 4 of their own species with them in the tank at any given time. That's just the minimum, and more are always going to be appreciated by these somewhat schooly fish. If you keep them happy, They will no doubt be Amazing Fish That Clean Tanks.
Guppy (Poecilia reticulata)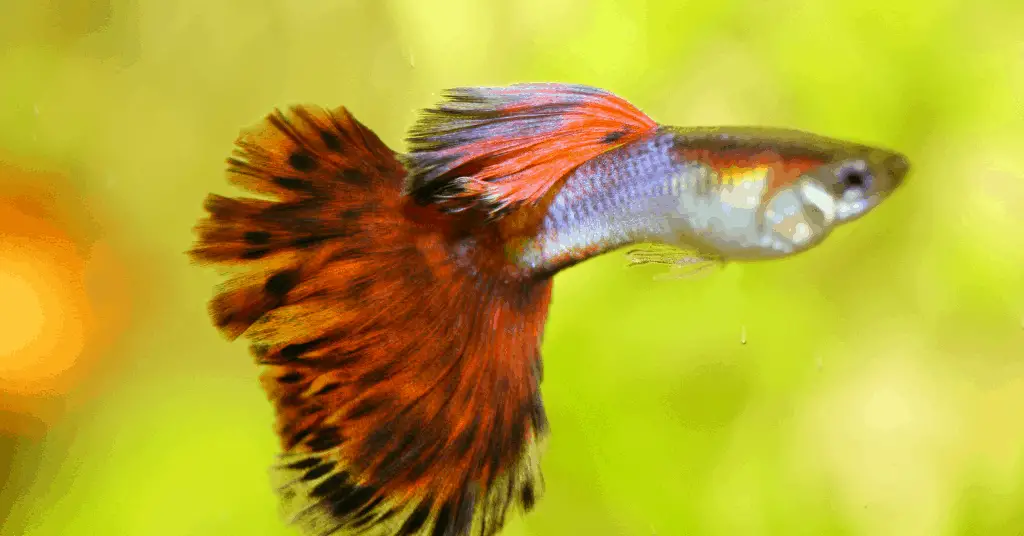 Guppies, Also known as a feast for your eyes, come in am amazing array of colouring, shading, shapes and sizes. Pink, red, green, yellow, orange, blue, and everything in between. They look best in a lit tank due to the reflective nature of the scales and colouring.
As far as algae eaters go, these guys make up for their tiny size (0.5 – 2.5 inches) with their numbers. A team of guppies can easily do away with unwanted algae and other fish foods and wastes as an omnivores species.
These aren't going to be the most incredible clean up crew additions to your tank however. They still require a lot of feeding aside from the algae in your tanks. A somewhat high protein flake or food is preferred, and to avoid soy and other fillers.
On the other hand, guppies are delightfully friendly peaceful fish that will go along with just about any other species that is also passive. They prefer a water temperature of around 72 °F (22 °C) and a pH level of 7.0 – 8.0.
These combined factors opens the guppy up to a large variety of potential tank mates, so choosing might be difficult.
The more guppies you have the better assuming your tank is at least 5 gallons. They are very social fish and like to be in groups the most. Having too few could be bad for your guppy.
What Are The Best Algae-Eating Snails Fish That Clean Tanks?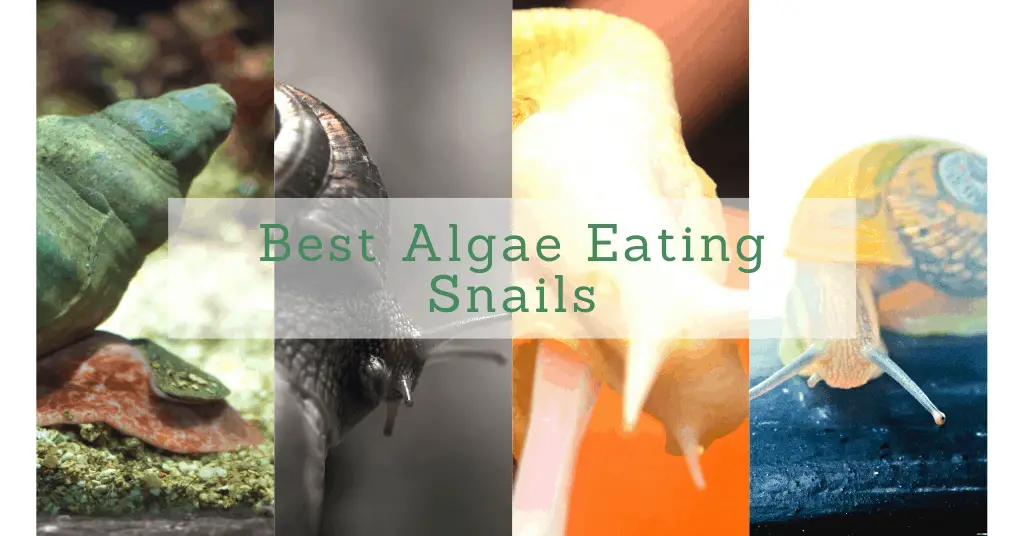 Snails are one of the most glorious additions you can add to your tank. Not only do they come in an unfathomable amount of colors, shapes, and patterns, they are the most gentle and peaceful bottom feeders you can get.
It doesn't matter if you have a saltwater tank or a freshwater tank, theirs a snail species out there suited to any ecosystem or biosphere you've created. High adaptable with many varieties, snails make a solid foundation for a perfect janitorial cleanup crew.
Nerite Snail (varied species)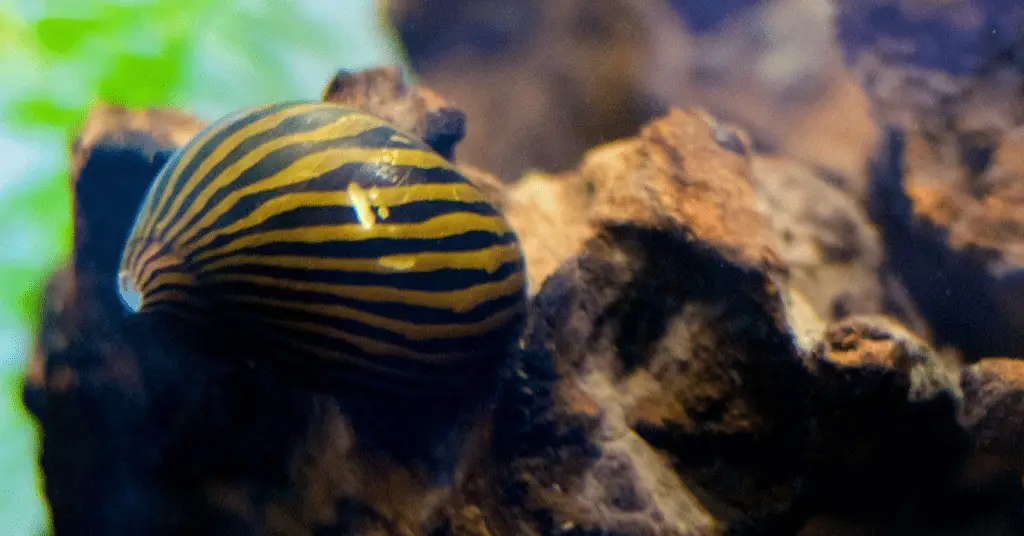 The nerite umbrella of snails are large and varried. It includes species such as Neritina natalensis Zebra, Neritina turrita, Neritina reclivata, Neritina Clithon corona, Neritina pulligera, Vittina waigiensis and Neritina natalensis.
While all of these snails vary in color, shape, size, pattern, and behaviors, one thing is for certain, They make the perfect cleaners for an aquarium.
Between their dazzling colors and breathtaking patterns, you will be even more impressed with their ability to suck up algae and other debris. The butlers of the sea I once heard them called by.
Nerite snails require a somewhat high amount of space to be happy. Usually, that means for every 1 snail you have, you should compensate with at least 5 gallons of water. That's also the best ratio of snail to snail cleaning power.
Their optimal pH level is between 7.0 and 8.0 with a comfortable water temperature ranging from 65°F – 85°F (20°C to 30°C). Their nitrate tolerance is fairly high at 20ppm but closer to zero is always better like many other bottom feeders.
Because of their peaceful nature, these snails can coexist with many varieties of fish and other snail species. They tend not to socialize however and like to be on their own and do their own thing.
While these types of snails can and do enjoy living in a live plant tank, you must avoid the overly complex tank geography of rocks and tight spaces. Your snail could end up getting stuck very easily, causing it to perish.
They are omnivores, which means, of course, they will eat algae, but also an array of other foods. This includes fresh human produce (IE lettuce, cucumber, etc). They will make quick work of any algae in your tank, including grooming off all your living plants without damaging them.
If you find your snails do end up damaging your plants, there is a good chance you aren't feeding them enough additional food to sustain their calcium-rich diet.
Because they have a shell, their calcium will need to be supplemented in order for them to keep growing and being healthy. Otherwise, their shells may fall damaged and unrepairable, leading to a shorter life span.
Their average lifespan is about 3 years, although it can vary based on water temperature. The warmer the water is, the faster your snails will die. The faster they will also grow. You will definitely know they have perished when a vile smell is released. Remove them immediately.
Mystery Snail (Ampullariidae)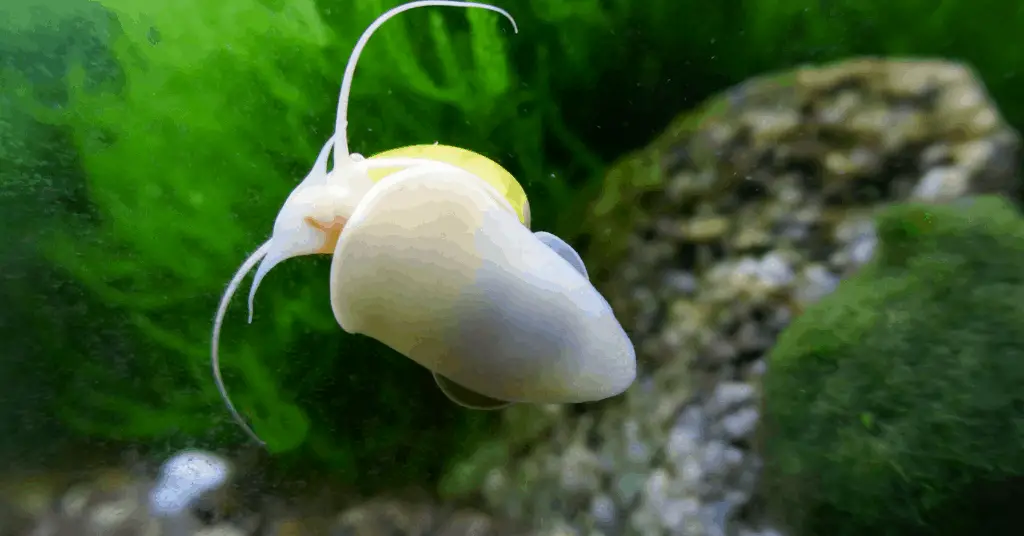 Pomacea diffusa (Ampullariidae) or, simply, Mystery Snail, are also ideal bottom feeders for your aquarium algae eater crew. Complicating naming schemes aside, this is a varied species with many names, but it is an Amazing Fish That Cleans Tanks.
It shares a lot of characteristics with the nerite snail, in as far as dietary consumption of algae goes. They are classified as herbivores rather than omnivores, although you likely won't see them damage your plants.
In fact, They tend to spend a lot of time grazing off the various growths on your tank plants, leaving them clean and intact in their wake. This makes them ideal for heavily planted tanks and scapes.
They can also tend to get stuck between objects so keep the spacing geography in mind when designing your mystery snail friendly aquascape.
Desired pH level should be between 7.5 and 8.5 with a temperature ranging from 68°F-84°F. They require large amounts of calcium like other shelled species.
Their tank effectiveness range is the same as nerite snails, 5 gallons per snail, although their range can increase a bit to 10 gallons per snail depending on the size and subspecies.
Like other snails, the mystery snail is relatively peaceful and good to go when it comes to placement in social tanks. They make ideal tank mates with Tetras, killifish, guppies, and other algae eater species.
So as far as snails are concerned, no matter what species you choose, they make great additions to your cleaning team. There's nothing that clean tanks quiet as well as snails do.
What Are The Best Algae-Eating Shrimp Fish That Clean Tanks?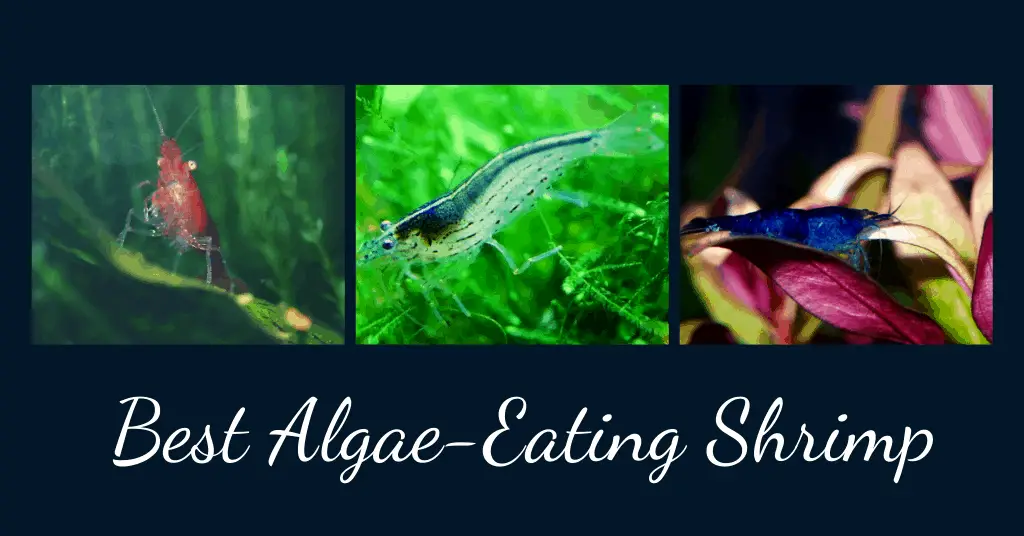 Most of the above algae eaters don't peculiarity care for certain types of hair algae, which can be a problem if you find you keep getting a reoccurrence of the stuff.
That's where the amazing power of the shrimp comes in. Most people don't think too much about shrimp, but the truth is they are fantastic tank cleaners and will put all others to shame if given the chance.
Cherry Shrimp (Neocaridina heteropoda)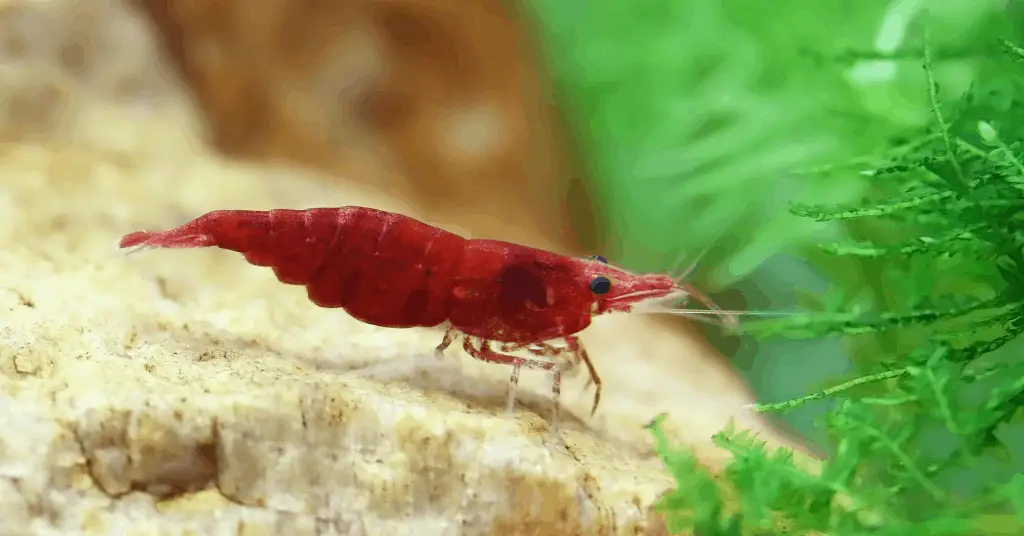 I'm not even going to attempt to decipher the naming scheme, subspecies, and classifications. Honestly, it's just this big pile of nonsense that you would need a course in biochemistry just to understand.
What you need to know is a cherry shrimp is a colored variation of a native species to Taiwan. It's selectively bread for it's beautiful bright solid or poke-doted coloring.
Cherry shrimp will generally be around 4 cm long, 1.5 inches, require a pH level of 6.5-7.9, and a tank temperature of 68–84 °F (20–29 °C). As omnivorous bottom feeders, they will eat almost all types of algae including brown, green, yellow hair algae.
They do not require a lot of space, only 5 gallons. Each shrimp is expected to be able to keep 5 gallons clean of leftover fish foods, decaying fish that haven't been removed from the tank quickly enough, and algae.
Cherry shrimp requires planted tanks to be the happiest, one preferably with moss. Baby and adult shrimp will make it their home and safe place to hide and stay safe. This is especially important to sensitive juvenile shrimp.
These shrimp will definitely make a valuable member of your aquarium, and being a relatively peaceful species means they should get along well with just about everyone who doesn't try and eat them. They truly are Amazing 'Fish' That Clean Tanks.
About
Owner of AquariumGravel.com and also owner of actual Aquarium Gravel believe it or not! ;). Setting up beautiful aquarium sceneries and habitats since I was very young. Enjoy!